Networking & Grants » Grants » International
PerProGlio
Integrative Personal Omics Profiles in Glioblastoma Recurrence and Therapy Resistance
Acronym: PerProGlio
Proiectul este finantat de catre UEFISCDI (din bugetul de stat) si de COMISISA EUROPEANA prin Programul ERANET PERMED
Project Duration: 01/07/2019 - 30/06/2022
Coordinator: Dr. Joerg Walter Bartsch' Philipps University Marburg, Germany
Contact: jbartsch@med.uni-marburg.de
Partners:
Dr. Oliver Schilling, University of Freiburg, Freiburg, Germany
Dr. Giovannni Tonon, IRCCS Ospedale San Raffaele, Milan, Italy
Dr. Luis Marti-Bonmati, Hospital Universitario y Politecnico La Fe, Valencia, Spain
Dr. Hannes Roest, University of Toronto, Toronto, Canada
Dr. Anca Gafencu, Institute of Cellular Biology and Pathology "Nicolae Simionescu", Bucharest, Romania
Abstract
Glioblastoma (GBM) is an aggressive brain tumor with a poor prognosis and median survival times of < 15 months. Despite multimodal therapy, including surgical resection and radio-chemotherapy, recurrence is common. However, time to recurrence is an individual parameter in patients and depends on genetic factors and on clinical parameters, e.g. extent of resection. In recurrent GBM, repeated surgery can prolong the lifespan if recurrent tumors are detected at early stages. Until now, recurrence monitoring is based on radiologic imaging but suffers from limited sensitivity and confounding effects. Therefore, circulating "liquid biopsy" markers predicting the time window of recurrence are highly desirable. We propose to use our combined expertise of "OMICS" methods to dissect the individual parameters that determine recurrence and therapy resistance in GBM with possible therapeutic implications. Initially, we will use a retrospective cohort of 100 patients with clinical metadata of GBM primary and recurrent samples. Abundance-based biomarkers associated with time-to-recurrence and therapy resistance will be obtained by analyzing extracellular vesicles (EVs) with respect to proteolytic fragments (mass spectrometry based), protease activities, and miRNA content. In addition, a full NGS analysis will be performed to characterize recurrence in each individual patient and combine "OMICS" with clinical and imaging data. From these analyses, we propose to identify personalized easy-to-access biopsy markers so that investigation of pre- and post-surgery serum samples (at time of initial surgery) allows to faithful discern tumor-originating molecules through their decreased abundance in post-surgery samples. We further hypothesize that multimodal monitoring, e.g. combining imaging data with molecular markers allows to establish a molecular signature of GBM recurrence which is particularly powerful for reliable prediction of GBM recurrence in a prospective patient cohort.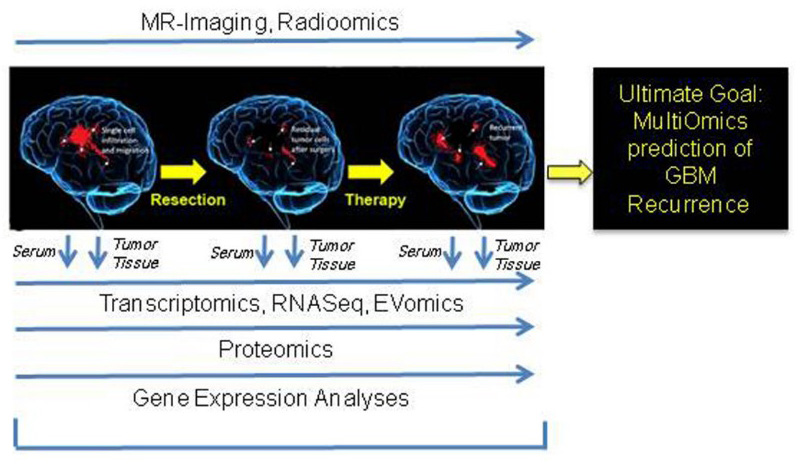 Rezumat
Glioblastomul (GBM), cea mai frecventă tumoare cerebrală agresivă, are un prognostic slab și o perioadă de supraviețuire medie de Ne propunem sa utilizam expertiza combinata a mai multor metode "OMICS" pentru a diseca parametrii individuali care determina reaparitia si rezistenta terapeutica in GBM cu posibile implicatii terapeutice. Inițial, vom utiliza o cohorta retrospectivă de 100 de pacienți cu metadate clinice de GBM primare și recurente. Biomarkerii abundenți asociați cu timpul de recurenta și rezistența la terapie, vor fi obținuți prin analiza veziculelor extracelulare (EVs) în ceea ce privește fragmentele proteolitice (prin spectrometrie de masă), activitătea proteazelor și conținutul de miRNA. În plus, va fi efectuată o analiză completă prin NGS pentru a caracteriza recurența la fiecare pacient și a combina datele multi-OMICE cu datele clinice și imagistice. Din aceste analize, ne propunem sa identificam markeri personalizati din biopsie, cu acces usor, astfel incat investigarea probelor de ser pre-si post-chirurgicale (la momentul interventiei chirurgicale initiale) sa permita identificarea cu fidelitate a moleculelor originare din tumori prin scaderea abundentei acestora in probe de post-chirurgie. Monitorizarea multimodală, de ex. combinarea datelor imagistice cu markerii moleculari va permite stabilirea unei semnături moleculare a recurenței GBM, care este deosebit de importantă pentru o predicție de incredere a recurenței GBM într-o cohorta prospectivă de pacienti.
Project Objective
Retrospective re-evaluation of MRT imaging (pre-surgical, surveillance) to identify novel, predictive features as personalized indication for tumor recurrence identification of tumor-intrinsic circulating markers and imaging features indicative of short or prolonged TTR. Retrospective identification of tumor-resident or circulating markers (proteins, ncRNA; mRNA, EV cargo) indicative of recurrence. Integration of the marker profiles and initial validation in a prospective study.
Obiectivul proiectului
Reevaluare retrospectiva a imaginilor MRT (pre-chirurgical, de monitorizare) pentru a identifica trăsături predictive noi ca indicație personalizată pentru identificarea recurenței tumorale a markerilor circulanți tumorali intrinseci și a caracteristicilor imagistice care indică timpul pana la recurenta (TTR) scurt sau prelungit. Identificarea retrospectivă a markerilor rezidenți sau circulanți ai tumorii (proteine, ARNc, ARNm, încărcătura veziculelor extracelulare) care indică recurența. Integrarea profilurilor markerilor și validarea inițială într-un studiu prospectiv.
Romanian Team:
Dr. Anca Gafencu -Responsible
Dr. Violeta Trusca
Dr. Felix Brehar
Dr. George Petrescu
Lavinia Elena Tudor – Master Student
Main events that took place in the frame of the project, in 2019:
- July 29-30: the kick-off meeting took place in Marburg
- October 15-16: Dr. Joerg Walter Bartsch' visited the Institute of Cellular Biology and Pathology "Nicolae Simionescu" – Bucharest, Romania
Main results obtained in 2019 by the Romanian team:
- The protocol for tumor cell isolation was established
- The sample from 7 glioblastoma patients were collected, and RNA from various cell types was isolated and analyzed.
- Set up experimental design for detection of promoter hypermethylation by Pyrosequencing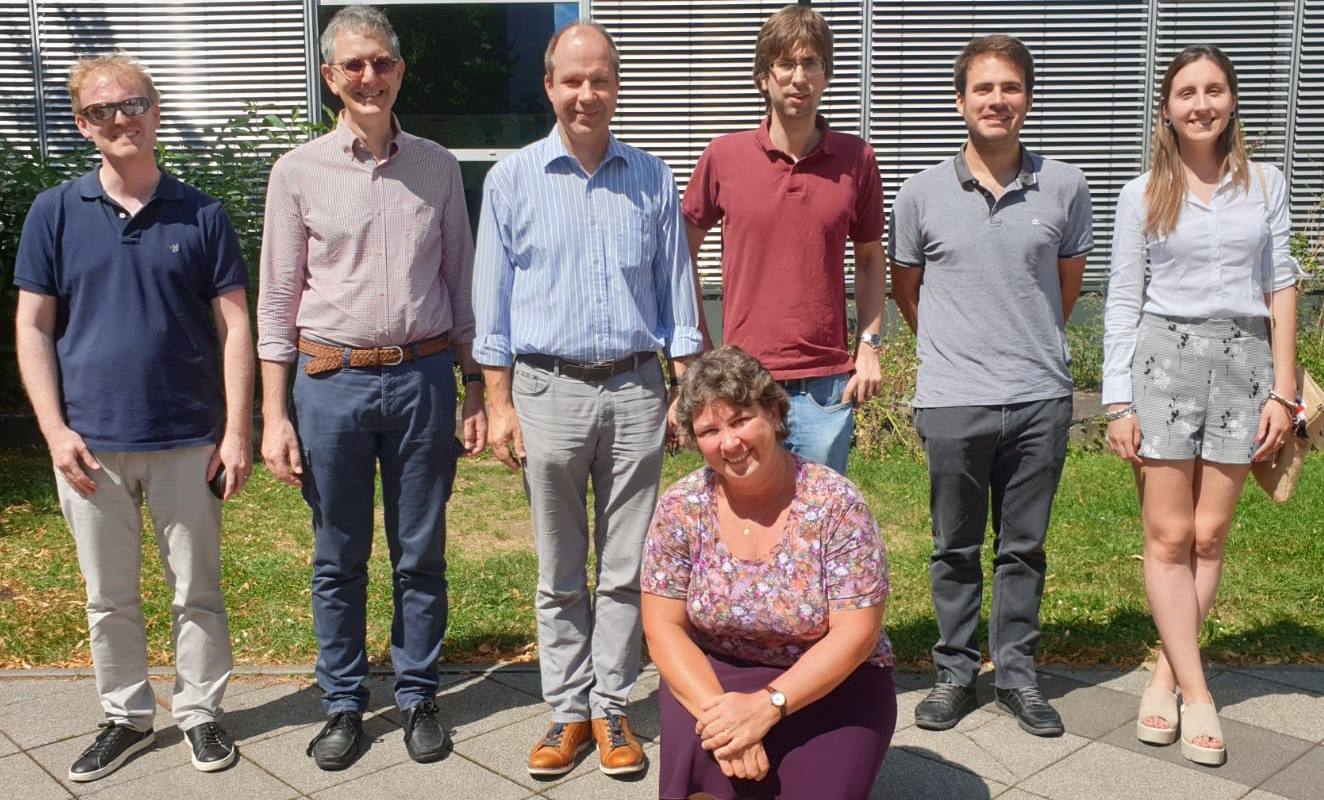 PerProGlio team at the kickoff meeting