Research
Facilities/ Facilitati
CELL CULTURE LABORATORY/ LABORATORUL DE CULTURI CELULARE
Coordinator/ coordonator: Victor V.Jinga, MD, PhD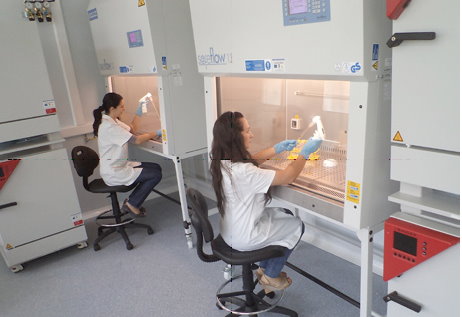 Role
To establish and characterize original pure cell lines; cryo-preservation
Growing and cryo-preservation of imported cell lines
Development of new procedures for cell isolation, selection and culture
Training researchers in cell culture methods
Within the CARDIOPRO project the cell culture unit was radically remodelled, according to clean rooms technology and EU ISO 14644.1 regulations as follows:
- Compartment A1-for media preparation, storage and sterilization (ISO CLASS 8) and quarantine (ISO CLASS 7)
- Compartment A2 – for cell lines propagation and in vitro experiments (ISO CLASS 6)
- Compartment A3 – for special technologies intended for use in human regenerative medicine (ISO CLASS 5, GMP exigencies)
- The modernized cell culture laboratory is equipped with last generation 6 laminar flow hoods, 12 uni(tri) gas incubators, 5 inverted microscopes, centrifuges, cell counter, automatic washing machine.
The ICBP's cell culture collection contains over 75 different cell lines, (original and/or expanded in the laboratory). Recently, a bank of human osteoprogenitor cell units, derived from bone morrow was started up for the use in bone pathology and traumatology as autotransplant.
The cell culture collection is currently utilized in numerous projects.
---
Rol: de a crea si caracteriza linii celulare pure originale; crioprezervare.
Cresterea si crioprezervarea liniilor celulare importate.
Dezvoltarea de noi proceduri pentru izolarea, selectarea si cultivarea celulelor.
Instruirea cercetatorilor in domeniul metodelor de cultivare a celulelor.
In cadrul proiectului CARDIOPRO unitatea de culturi celulare a fost radical remodelata, in concordanta cu tehnologia camerelor curate si reglementarilor EU ISO 14644.1, dupa cum urmeaza:
- Compartimentul A1 - pentru prepararea, stocarea si sterilizarea mediilor (ISO CLASS 8) si pentru carantina (ISO CLASS 7).
- Compartimentul A2 - pentru pregatirea liniilor celulare si experimente in vitro (ISO CLASS 6).
- Compartimentul A3 - pentru tehnologii speciale avute in intentie pentru folosirea in medicina regenerativa umana (ISO CLASS 5, GMP exigencies).
- Laboratorul de culturi celulare modernizat este echipat cu 6 nise cu flux laminar de ultima generatie, 12 incubatoare uni(tri) gaz, 5 microscoape inversate, centrifuge, numarator de celule, masina de spalat automata.
Colectia de culturi celulare a IBPC contine peste 75 de linii diferite de culturi celulare (originale si/ sau extinse in laborator). Recent, o banca de unitatti de celule osteoprogenitoare derivate dinmaduva osoasa a fost inaugurata pentru folosire ca autotransplant in patologie si traumatologie.
Colectia de culturi celulare este utilizata in prezent in numeroase proiecte.
---
---
FLOW CYTOMETRY LABORATORY/ LABORATORUL DE CITOMETRIE IN FLUX
Coordinator/ coordonator: Horia Maniu, Ph.D.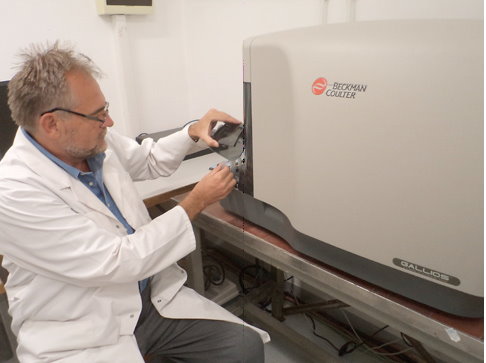 3-laser GALLIOS-cytometer/ Citometru GALLIOS cu 3 lasere
Within CARDIOPRO project the Flow Cytometry Laboratory was extended and updated permitting the detection, acquisition, and sorting of combined multi-fluorescent single cells of various origin. It is heavily used for many research projects of the Institute.
---
In cadrul proiectului CARDIOPRO laboratorul de citometrie in flux a fost extins si actualizat permitand detectia, achizitia si sortarea combinatiilor multifluorescente de celule singulare de diferite origini. Este intens folosit pentru multe proiecte de cercetare ale institutului.
3-laser GALLIOS-cytometer
---
---
EXPLORATORY LABORATORY/ LABORATOR EXPLORATORIU
Coordinador/ coordonator:Florentina Safciuc, Ph.D.
The newly modernized laboratory allows processing of biological specimens - tissue fragments and culture cells – to be used for electron microscopy, frozen sections, paraffin sections and for immunofluorescence and immunocytochemistry. The new equipments acquired from CARDIOPRO project permit high resolution imaging techniques employed in our scientific projects.
---
Recent modernizatul laborator permite procesarea specimenelor biologice - fragmente tisulare si culturi celulare - pentru a fi folosite in microscopia electronica, obtinerea de sectiuni la gheata sau in parafina pentru imunofluorescenta si imunocitochimie. Noile echipamente achizitionate prin CARDIOPRO permit folosirea de tehnici de imagistica de inalta rezolutie folosite in proiectele noastre stiintifice.
---
---
BIOINFORMATICS/ BIOINFORMATICA
Coordinator/ coordonator: Loredan Stefan Niculescu, Ph.D.
The new common facility equipped with high-tech computers allows the creation and maintenance of a database for storing, retrieval and analysis of biological data. This facility is an interface allowing scientist to access the latest knowledge and data as well as submit their own results.
---
Noua facilitate comuna, echipata cu computere de inalta tehnologie, permite crearea si mentinerea unei baze de date pentru stocarea, regasirea si analizarea datelor biologice. aceasta facilitate permite cercetatorilor accesarea celor mai noi cunostinte si date, ca si transmiterea propriilor lor rezultate.
---
---
BIOARCHIVE SYSTEM/ SISTEM DE BIOARHIVARE
Coordinator/ coordonator: Horia Maniu, Ph.D.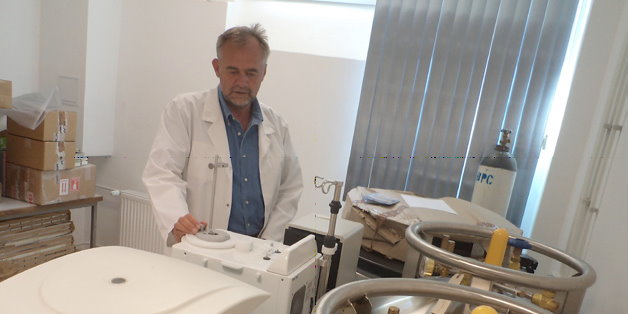 This is a new common facility used to cryo-preserve and accommodate cells and tissues to be employed in studies of tissue engineering, gene therapy and tissue regeneration in degenerative diseases. It also houses a stem cell bank to be used by all the research groups.
Aceasta este o noua facilitate comuna folosita la crioprezervarea si stocarea celulelor si a tesuturilor pentru ca ulterior sa fie folosite in studii de inginerie tisulara, terapie genica si regenerare tisulara in bolile degenerative. Gazduieste de asemenea o banca de celule utilizabila de grupurile de cercetare.
---
---
EXPERIMENTAL MODELING PLATFORM/ PLATFORMA DE MODELARE EXPERIMENTALA
Coordinators/ coordonatori: Madalina Fenyo, Ph.D.; Emanuel Dragan, Veterinary Doctor
This completely new facility provides SPF conditions for housing laboratory animals in accordance with the European standards. In addition the new equipments offer researchers' modern facilities for imaging and non-invasive exploration, determination of patho-physiological parameters, transplantation studies, and rederivation/embryo transfer techniques.
---
Aceasta facilitate complet noua ofera conditii SPF pentru gazduirea animalelor de laborator in acord cu standardele europene. In plus, noile echipamente ofera cercetatorilor facilitati moderne pentru explorari imagistice si non invazive, determinarea parametrilor pato-fiziologici, studii de transplantare si tehnici de rederivare/ transfer de embrioni.
---
---
CORE FACILITIES
Surgical rooms equipped for micro-, and macrosurgery
Electron microscope; Nikon fluorescence microscope
FPLC-HPLC system, Multiscan, Spectrofluorimeter and Image Master VDS
Ultracentrifuges with appropriate rotors
Thermal Cyclers PCR/RT-PCR
Real Time PCR
Gene Pulser
Small vessel wire Myograph
Nitric Oxide Measuring System
Each laboratory accommodates common equipment for chromatography, isoelectric focusing, electrophoresis, electrotransfer, UV-VIS spectrophotometry, and hoods.
---
FACILITATI CENTRALE
Sali de operatie echipate pentru micro- si macrochirurgie.
Microscop electronic; microscop cu fluorescents Nikon
Sistem FPLC-HPLC, multiscan, spectrofluorimetru si Image Master VDS
Ultracentrifuge cu rotoarele aferente
Termociclizoare PCR/ RT-PCR
Real Time PCR
Gene Pulser
Miograf pentru vase sanguine mici
Sistem de masurare a oxidului nitric
Fiecare laborator poseda echipamente obisnuite pentru cromatografie, focalizare izoelectrica, electroforeza, electrotransfer, spectrometrie UV-VIS, nise
---
---
Internet online connection and intranet PC network.
Library: journal subscriptions, journal collections, and about 1000 books.
---
SERVICII CENTRALE
Conexiune internet si intranet.
Biblioteca: abonamente la reviste, colectii de reviste si cca 1.000 de carti.
---
---
Aula "George E. Palade" (120 seats) equipped with audio visual facilities and IT support
OctoCell, NeoCell, PeriCell - seminars and communication rooms, journal club and poster display, and team building areas.
Cold rooms (3), stock rooms, maintenance and technical assistance.
---
ALTE FACILITATI
Aula "George E. Palade" (120 locuri) echipata cu facilitati audiovizuale si suport IT.
OctoCell, NeoCell, PeriCell - sali pentru seminarii si comunicari, journal club si expunere de postere, zone pentru team building.
Camere reci (3), magazii, asistenta pentru mentenanta si tehnica.