Networking & Grants » Grants » National Grants
Ep-Angio
Dynamics of the endothelial junctional proteins in HMGB1-induced angiogenesis; Clinical implications(Contract PD 138/2018) - 2018-2020
Coordinator: PhD. Raluca Boteanu
Project acronym: Ep-Angio
Duration of the project: 24 months
Rationale: a strong connection exists between cardiovascular events and angiogenesis within atherosclerotic plaque. The role of endothelial cells (EC) junctions in the complex mechanisms behind angiogenesis is unclear. Recently the pro-angiogenic effect of the high mobility group box 1 (HMGB1) protein and its use as a target for therapies in several experimental models was reported.
Project goal: to uncover the EC junctional proteins involved in the regulatory pathways of plaque neovascularization in HMGB1-induced angiogenesis.
Specific objectives: (1) to identify and evaluate the expression of EC junctional proteins (integrins, zonula occludens proteins, catenins, etc.) in HMGB1-induced angiogenesis models and (2) to assess the junctional-activated signaling pathways that mediate various steps of angiogenesis: migration, invasion, tubulogenesis.
Methodology: for objective 1, we will generate an in vitro model of culturing EC (human umbilical vein and coronary microvasculature) on growth factor-reduced matrigel in presence/absence of HMGB1. The screening and quantification of EC junctional proteins will be done by high performance liquid chromatography tandem mass spectrometry approach. The results will be validated in vivo employing ApoE deficient mice that will receive a subcutaneous Matrigel implant of constant shape and volume containing or not HMGB1. For objective 2, the proteomic bioinformatics analysis, molecular biology and immunological assays will be applied to detect alteration of junctional signalling pathways in HMGB1-induced angiogenesis models.
Expected results: the molecular regulatory networks by which junctional proteins regulate endothelial angiogenic activity will be unveiled. The data could provide new/significant insights on the dynamics of EC junctional proteins and their gene expression that may be further used to target plaque angiogenesis for imaging and therapeutic purposes.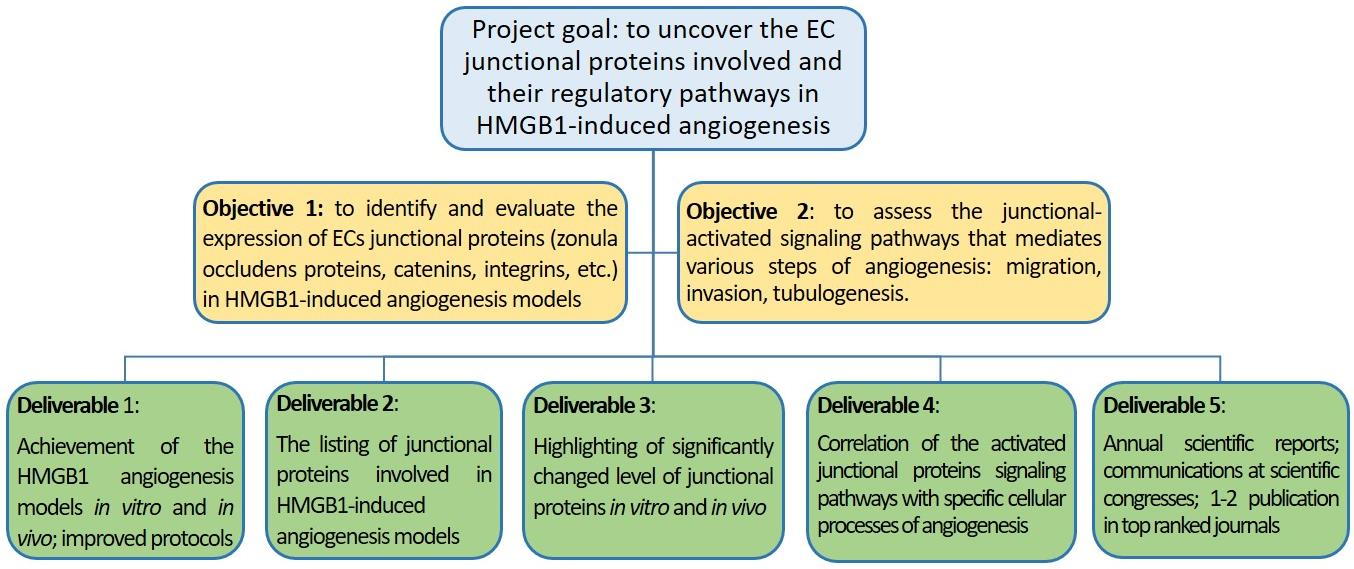 Diagram of the project goal, objectives and undertaken deliverables
(zoom in by clicking the image)