Networking & Grants » Grants » National Grants
NAMIGEL
---
---
Titlu: Dezvoltarea și validarea unui hidrogel cardiac nativ pentru repararea miocardului după infarct

Nr. contract. PED 534/23.10.2020
Codul proiectului: PN-III-P2-2.1-PED-2019-4906
Director proiect: Dr. Elena Butoi
Acronim: NAMIGEL
Perioadă: 24 de luni - 2020-2022

Buget: 600.000 Lei

---

Rezumat

Infarctul miocardic (IM) – cea mai comună boală cardiovasculară, reprezintă una dintre cele mai importante cauze de mortalitate la nivel global. Recuperarea și evoluția pacienților cu IM depinde de echilibrul dintre inflamație și repararea țesutului cardiac. Inflamația excesivă și repararea defectuasă pot duce la leziuni accentuate, remodelare cardiacă, destabilizarea plăcilor coronariene și în final la insuficiență cardiacă și moarte. Cu toate că progresele medicale recente au redus riscul de mortalitate asociat IM acut, modificările structurale și leziunile inimii produse de necroza cardiomiocitelor și degradarea matricei extracelulare (MEC) conduc ulterior la insuficiență cardiacă. Astfel, în repararea post-infarct sunt importante atât reducerea inflamației și fibrozei cât și generarea unei MEC funcționale. Recent, ingineria tisulară și medicina regenerativă au dezvoltat noi opțiuni terapeutice pentru IM și insuficiența cardiacă. Biomaterialele folosite pot rezolva atât problema grefării celulare dar pot complementa și terapia clinică prin utilizarea de molecule bioactive. Rezultate notabile au fost obținute utilizând hidrogeluri din MEC nativă, obținute prin decelularizarea țesuturilor cardiace. Aceste matrici imită țesutul cardiac nativ (ex. arhitectura MEC, factori biochimici și integritate structurală) favorizând atașarea, creșterea, infiltrarea și diferențierea celulară. Deși eficiența terapiei anti-inflamatoare post IM a fost recent demonstrată într-un studiu CANTOS, puține studii au utilizat agenți anti-inflamatori încapsulați într-o MEC cardiacă nativă. În acest context, în proiectul NAMIGEL ne propunem să dezvoltăm un hidrogel din țesut miocardic (My-H) (TRL 2) din MEC nativă cardiacă, funcționalizat cu un agent anti-inflamator (TRL3), care va fi injectat in inima unor șoareci la care a fost indus IM, pentru a reduce răspunsul inflamator, a facilita infiltrarea fibroblastelor cardiace și a asigura o MEC propice reparării miocardice post IM (TRL 4).

Scopul proiectului

Scopul proiectului (NAMIGEL) este de a dezvolta un hidrogel derivat din miocard nativ (My-H), care va fi funcționalizat cu un agent antiinflamator și injectat în zona infarctată a unui model de șoarece cu infarct miocardic (MI), pentru a reduce răspunsul inflamator, pentru a facilita invazia celulară și pentru a asigura matricea extracelulara adecvata pentru o reparație eficientă a miocardului post-MI.

Obiectivele proiectului

O1. Dezvoltarea unui hidrogel din matrice extraceluara cardiaca

O2. Dezvoltarea unui hidrogel din matrice extracelulara cardiaca funcționalizat cu un agent antiinflamator

O3. Validarea în condiții de laborator a hidrogelului dezvoltat prin injecțarea și evaluarea eficacității sale terapeutice într-un model de șoarece de infarct miocardic (MI)


Title: Development and validation of a native cardiac hydrogel for myocardial repair post infarction

Contract no. PED 534/23.10.2020
Code project: PN-III-P2-2.1-PED-2019-4906
Coordinator: Dr. Elena Butoi
Project acronym: NAMIGEL
Duration of the project: 24 months - 2020-2022

Budget: 600.000 Lei

---

Abstract

Myocardial infarction (MI) - the most common CVD, is a leading cause of death globally. Efficient cardiac recovery and a good prognosis in MI patients depend on a finely-tuned balance between inflammation and repair. Excessive inflammation and defective repair promote extensive injury, cardiac remodelling and coronary plaque destabilization leading to heart failure and cardiovascular death. While recent medical advances have reduced the risk of dying during a heart attack, structural changes and damage to the heart caused by cardiomyocyte death, and subsequent degradation of myocardial extracellular matrix (ECM), can lead to subsequent heart failure. Thus, an important issue of post-MI repair is to minimize damage by reducing inflammation and fibrosis, but also to generate a functional ECM. Tissue engineering and regenerative medicine have recently emerged as a prospective option for MI and heart failure treatment. Biomaterials not only to address the issue of cell engraftment but also aid in the clinical translation of therapies based on bioactive molecules. Good results have been obtained with hydrogels from natural ECM obtained by decellularization of myocardial tissue, as these scaffolds mimic native heart tissue (e.g. ECM architecture, biochemical cues and mechanical integrity) and favor cell attachment, growth, infiltration and differentiation. However, studies that used anti-inflammatory agents encapsulated in natural ECM are scarce, although, the efficiency of anti-inflammatory therapies in MI was proven in a recent CANTOS trial. In this context, the NAMIGEL's main goal is to develop a myocardial-derived hydrogel (My-H) (TRL2) from native myocardial ECM functionalized with an anti-inflammatory agent (TRL3), to be injected in the infarcted area of a mouse model, in order to reduce the inflammatory response, facilitate cardiac fibroblast invasion and ensure the appropriate ECM (TRL4) for efficient myocardial repair post-MI.

Project Scope

The project's (NAMIGEL) scope is to develop a product consisting of a native myocardial-derived hydrogel (My-H), that will be functionalized with an anti-inflammatory agent and injected into the infarcted area of a myocardial infarction (MI) mouse model, in order to reduce the inflammatory response, facilitate cell invasion and ensure the appropriate ECM for efficient myocardial repair post-MI.

Project's objectives:

O1. Development of a native cardiac extracellular matrix hydrogel

O2. Development of a functionalized hydrogel with the anti-inflammatory agent ABR- 238901

O3. Validation under laboratory conditions of the developed hydrogel
---
Main RESULTS obtained within stage I and stage II:
During the nov-2020- dec 2021 we developed a hydrogel from the native cardiac extracellular matrix (Figure 1 and 2), functionalized and characterized it. Therefore, the biocompatibility with cardiac-like cells, as well as the first tests of the effect of the anti-inflammatory agent ABR-25757 encapsulated in the hydrogel were already done.

The biocompatibility studies of hydrogel with human (fibroblast) heart cells have shown that at 24 hours after culturing the cells adhere, proliferate, adopt fibroblast-specific phenotypes, and interconnect (Figure 3 below).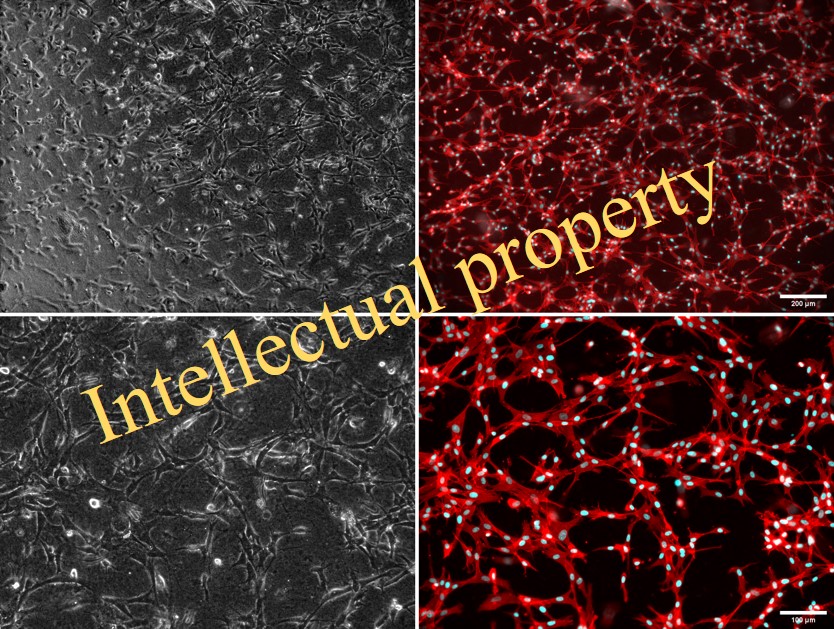 Figure 3. Representative image using 10x up and 20x lens, in phase contrast (gray) or fluorescent Hoechst (cyan) and Phalloidin (red). Cells at a density of 3x104 / cm2 were cultured for 18 hours on the gel surface
The results obtained from the beginning of the project so far show that:
• The composition of the porcine myocardial hydrogel - MIGEL is similar to that of the native cardiac tissue, containing the main extracellular matrix molecules: collagen I, collagen IV, elastin, fibronectin, laminin and GAGs;
• MIGEL is compatible with human cells, showing specific morphology and viability over 95% when grown on the developed hydrogel;
• The number of transmigrated neutrophils and monocytes is significantly reduced by the presence of hydrogel in response to various chemoattractants;
• Functionalized hydrogel has an anti-inflammatory effect, significantly reducing the transmigration of monocytes to the alarmin S100A9, compared to non-functionalized hydrogel.
Dissemination:
Articles
1. Cecoltan S, Ciortan L, Macarie RD, Vadana M, Mihaila AC, Tucureanu M, Vlad ML, Droc I, Gherghiceanu M, Simionescu A, Simionescu DT, Butoi E, Manduteanu I. High Glucose Induced Changes in Human VEC Phenotype in a 3D Hydrogel Derived From Cell-Free Native Aortic Root. Front Cardiovasc Med. 2021 Aug 12;8:714573; Impact factor: 6,05.

Posters presented at national and international meetings:
1. Sergiu Cecoltan, Mihaela Vadana, Ana-Maria Gan, Razvan Macarie, Elena Butoi Development of a hydrogel from native tissue for myocardial regeneration post-MI. 38th Annual scientific session of the Romanian Society for Cell Biology, November 2021.
Oral communications at national and international meetings:
1. Letitia Ciortan. High glucose induced changes in valvular endothelial cells phenotype in a 3D model of aortic valve disease. 38th Annual scientific session of the Romanian Society for Cell Biology, November 2021.
RAPORT FINAL
Proiectul NAMIGEL a avut ca scop pe care l-a îndeplinit, dezvoltarea unui hidrogel din matrice extracelulară cardiacă nativă provenită din miocard porcin (Figura 1), pentru injectarea terapeutică în zona afectată de infarctul miocardic. Înainte de a fi injectat în miocard, hidrogelul a fost mai întâi caraterizat, iar rezultatele au demonstrat că hidrogelul păstrează în compoziția sa principalele proteine de matrice extracelulară cardiacă, necesare pentru repararea zonei necrotice indusă de infarct.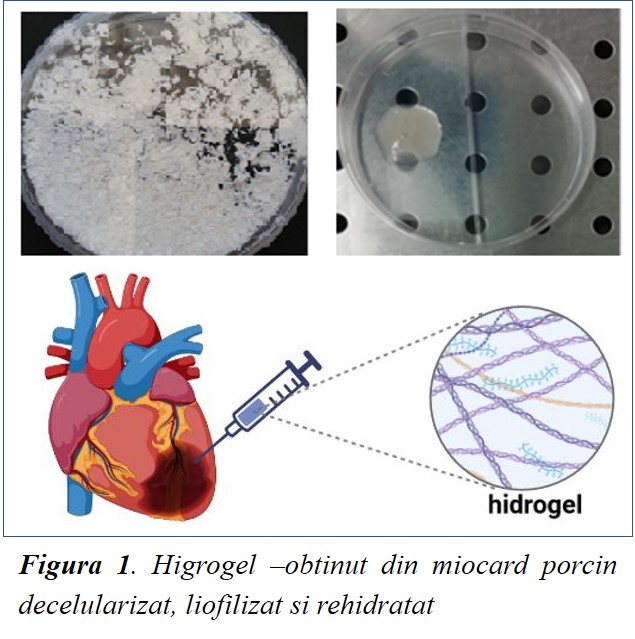 Un rezultat important al proiectului este biocompatibilitatea foarte bună a acestui hidrogel demonstrată in vitro cu celulele cardiace umane și in vivo cu șoarecii Balb/c demonstrată de teste de morfologie și viabilitate pentru celulele în cultură (Figura 2) și de grefarea in vivo fără a determina un răspuns inflamator detactabil (Figura 3).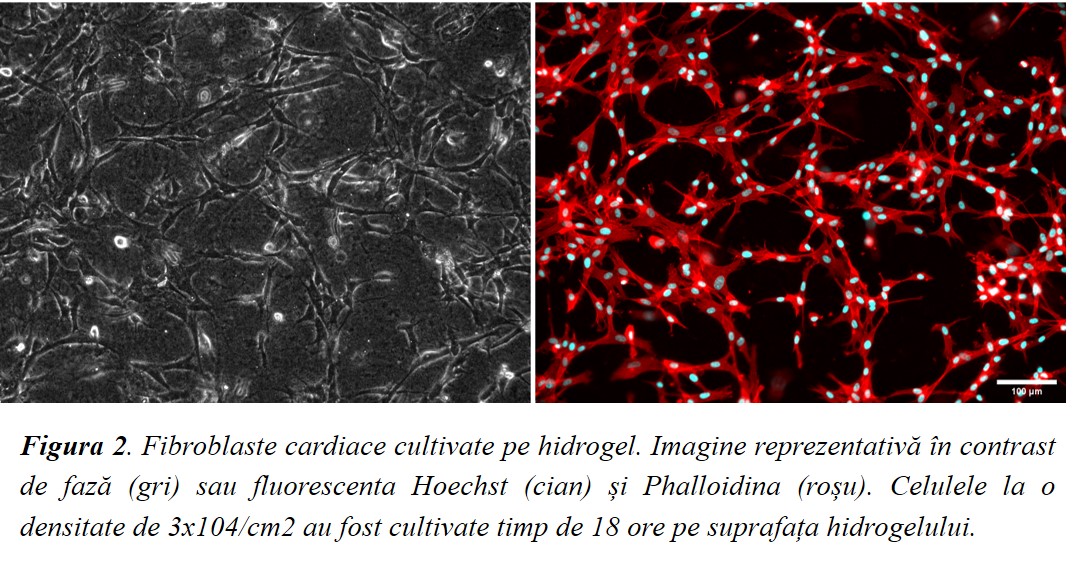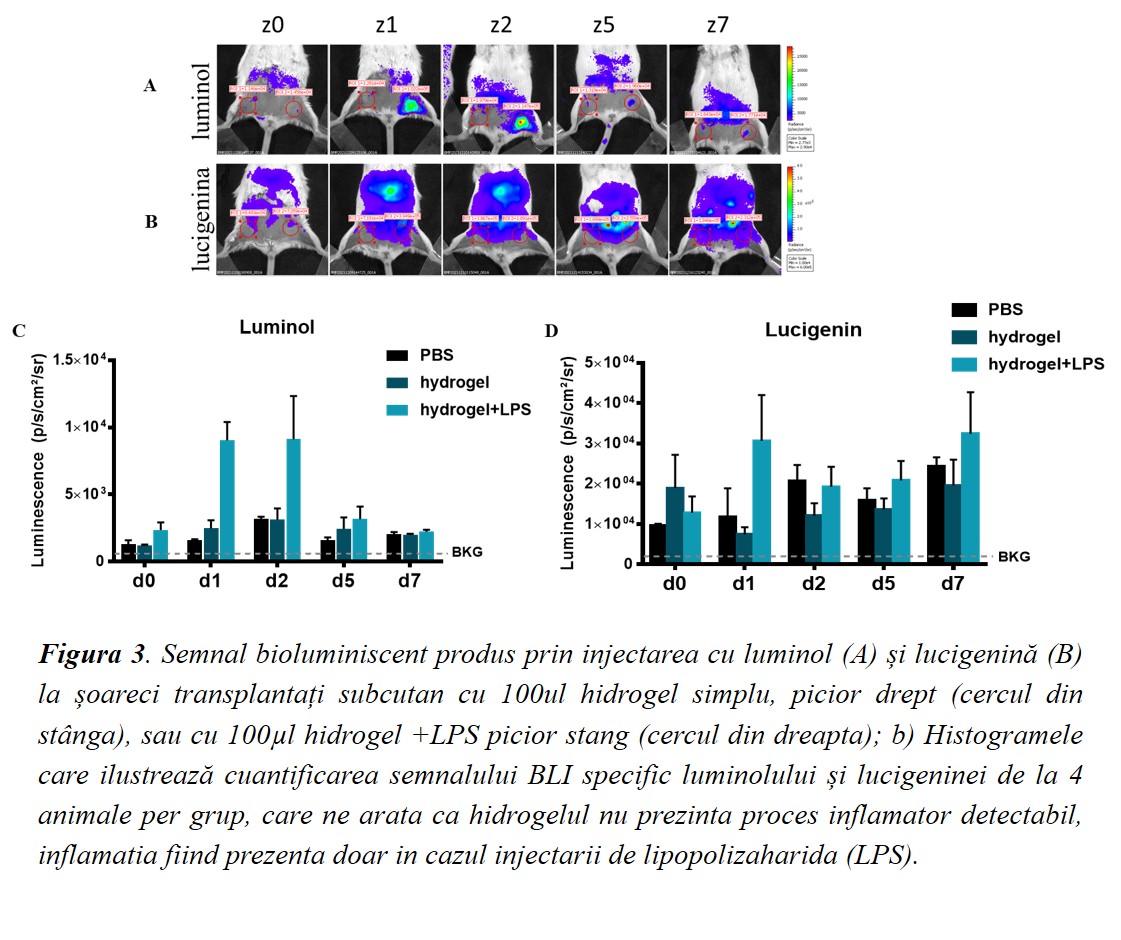 Efectul terapeutic al acestui hidrogel a fost demonstrat prin injectarea lui în zona infarctizată într-un model murin de infarct miocardic, unde a demonstrat că are efecte anti-inflamator și pro-reparator (Figura 4).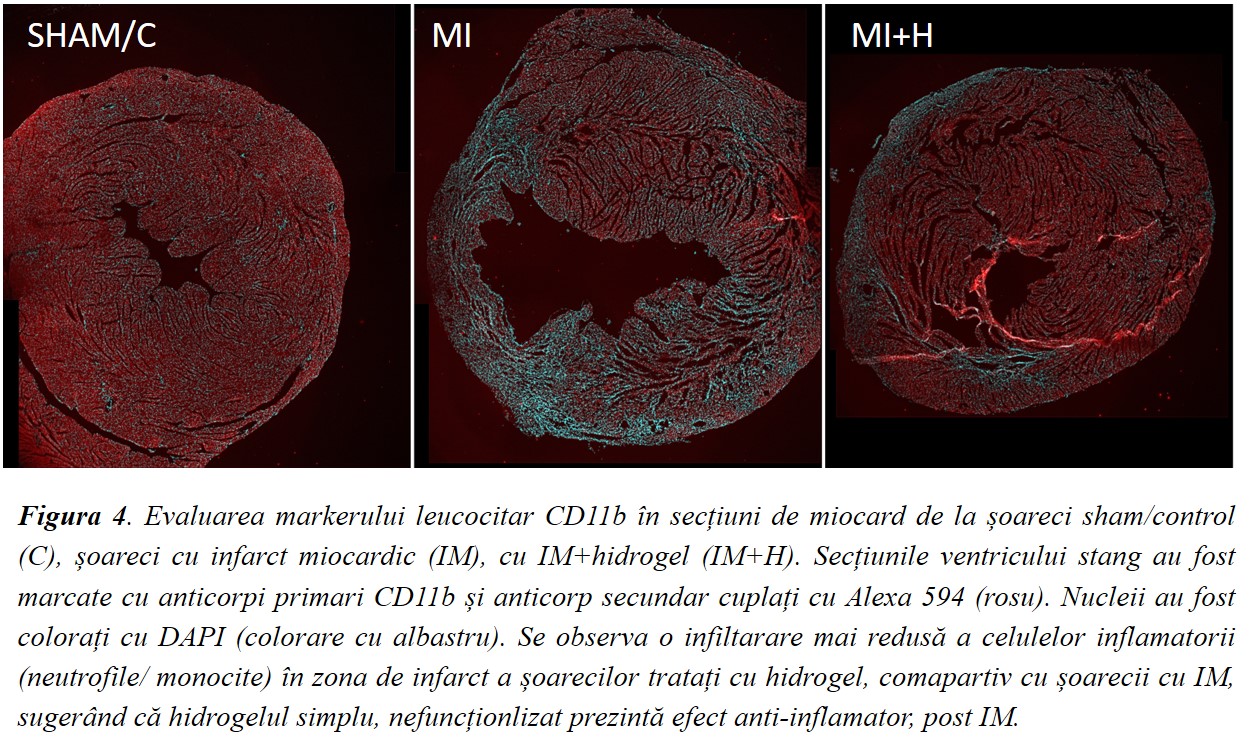 ---
Diseminare:
2 articole ISI, publicate în:
1. Frontiers in Cardiovascular Medicine (2021), factor de impact 6.05;
2. International Journal of Molecular Sciences (2022), factor de impact 6.208.
1 manuscris în pregătire care include rezulatele preclinice pe modelul animal, obținute în ultimele luni ale derulării proiectului, care vor fi trimise spre publicare la o revista ISI cu factor de impact minim 6

;
3 postere și o prezentare orală la conferințe internaționale: A 38-a Sesiune Științifică Anuală a Societății Române de Biologie Celulară (2021) - online,

The Biochemistry Global Summit Conference - Lisbon 2022 - Lisabona și

A 39-a Sesiune Științifică Anuală a Societății Române de Biologie Celulară (2022) – Cluj-Napoca;
1 brevet aplicat în 2022 (nr A100515/25.08.2022).
---
---