Networking & Grants » Grants » National Grants
NANORES
---
---
Grant acordat de Autoritatea Națională pentru Cercetare Științifică și Inovare, CNCS-UEFISCDI/ Grant awarded by the Romanian National Authority for Scientific Research and Innovation
PROGRAM 4: Cercetare fundamentală și de frontieră/ Fundamental and frontier research
TIP PROIECT/ TYPE OF PROJECT: Proiecte de cercetare exploratorie (PCE)/ Exploratory research projects (PCE)
TITLU PROIECT/ PROJECT TITLE:
"Terapie direcționată bazată pe nanocarrieri biomimetici pentru rezoluția inflamației în
ateroscleroză"/
"Targeted therapy based on biomimetic nanocarriers for resolution of inflammation in atherosclerosis"
ACRONIM/ ACRONYM: NANORES
COD PROIECT/PROJECT'S CODE: PN-III-P4-ID-PCE-2020-2465
NUMĂR CONTRACT/ CONTRACT NO.: PCE68/ 2021
DIRECTOR PROIECT/ PROJECT DIRECTOR: Dr. Manuela Călin
PERIOADA DE IMPLEMENTARE/ PERIOD: 4.01.2021 – 31.12.2023
BUGET/ BUDGET: 1.198.032 RON
ECHIPA DE IMPLEMENTARE/ IMPLEMENTATION TEAM: Mihaela Turtoi (Cărnuță), Cristina Mocanu (Constantinescu), Maria Anghelache, Geanina Voicu, Mariana Deleanu, Florentina Mihaela Safciuc, Misici Marilena.
REZUMAT: Bolile cardiovasculare (BCV) rămân principala cauză de morbiditate și mortalitate în lume. Ateroscleroza (AS), cea mai frecventă BCV, este o boală sistemică caracterizată prin depunerea lipidelor în pereții arterelor și un proces inflamator cronic. Studii recente au arătat că inflamația cronică observată în leziunile aterosclerotice este o consecință a disfuncției in rezoluția inflamației. Scopul principal al proiectului NANORES este îmbunătățirea intervențiilor terapeutice în BCV printr-o abordare nouă care implică folosirea unor nanocărăuși (NCs) pentru transportul directionat al unui cocktail de resolvine la placa aterosclerotică. Intenționăm să dezvoltăm și să validăm preclinic o strategie terapeutică care utilizează NCs pentru livrarea localizată a resolvinelor, mediatori anti-inflamatori care să resolve inflamația cronică asociată cu AS și remodelarea tisulară. În acest scop, ne propunem două obiective științifice care implică experimente pe culturi celulare și în modele experimentale animale cu AS: (1) Dezvoltarea NCs inovatori pentru livrarea eficientă a resolvinelor către leziunile aterosclerotice și (2) validarea preclinică a NCs încărcate cu resolvine și direcționate specific către placa AS. Originalitatea abordării terapeutice a proiectului rezidă în combinarea, pentru prima dată, a resolvinelor cu NCs direcționați către placa AS cu un potențial impact asupra sănătății, prin prevenirea evenimentelor cardiovasculare adverse la pacienții cu AS.
ABSTRACT: Cardiovascular diseases (CVD) are still the main widespread diseases which account for most death worldwide. Despite new therapeutics, a lack of innovative approaches for further improvement is apparent. CVD is primarily caused by atherosclerosis (AS), a systemic disease characterized by lipid deposition in the arteries' walls with an associated, chronic inflammatory process. Recent studies revealed that the chronic inflammation observed within AS lesions is a consequence of a failure in the resolution of inflammation. Therefore, the overall goal of the NANORES project is to improve the therapeutic interventions in CVD by a novel approach involving nanocarriers (NCs) for delivery of a cocktail of resolvins to AS plaque. We intend to develop and validate at the preclinical level an innovative therapeutic strategy employing NCs for localized delivery of anti-inflammatory and pro-resolving mediators to calm down the chronic inflammation, a hallmark of AS and tissue remodeling. We propose two scientific objectives that entail experiments in cell cultures and animal models of AS: (1) Development of innovative NCs for efficient delivery of resolvins to AS lesions, and (2) Preclinical validation of targeted resolvins-loaded NCs. We combine innovative targeted nanocarriers with resolvins to create a new drug-targeted system that has the potential to provide therapeutic alternatives for CVD with an impact on the prevention of adverse cardiovascular events in patients with AS.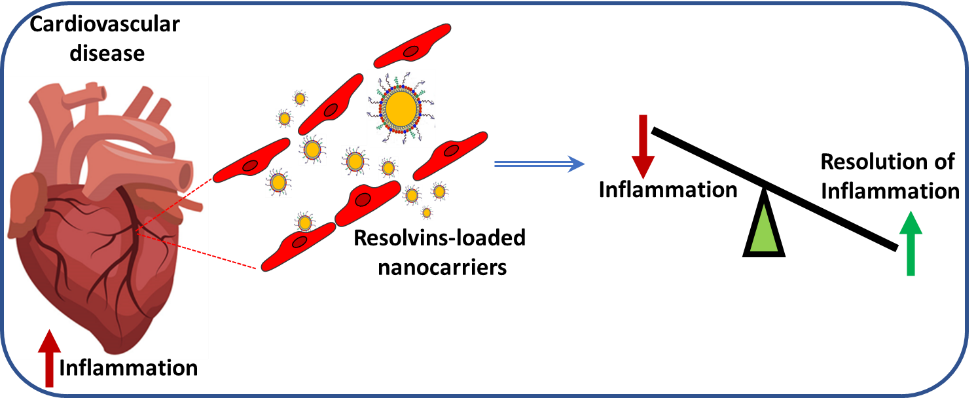 Working hypothesis of NANORES project.We hypothesize that AS development can be halted using novel biomimetic nanocarriers (NCs) as a 'taxi' for resolvins to the site of vascular wall inflammation (for example in the aorta, coronary artery, carotid artery). We will design and manufacture NCs loaded with a cocktail of resolvins for effective delivery to the plaque. Accumulation at pathological sites can be achieved by passive targeting, exploiting the EPR effect or by active targeting of specific molecules expressed at sites of atherosclerotic lesions (i.e. VCAM-1, P-selectin or collagen IV) and biomimetic nanocarriers covered with membranes derived from activated monocytes to benefit from their natural homing into AS lesions.
---
RAPORTARE/ DISEMINARE ETAPA 1-2021
RAPORTARE/ DISEMINARE -ETAPA 2/2022
---
---